About
Hello! We are Vibrant Music Lab that exists to guide students' unique musical journey with a "Love Before Learning" philosophy and a student-centered approach!
We strongly believe everyone's way of learning is different, every students deserve to be led to FALL IN LOVE with music FIRST before learning hard concepts and "proper" techniques.
We have our method books for every instrument that our experienced and qualified instructors created for students with our philosophy and also offer various programs such as the "Level Up Program" and Practice reward system to motivate students to practice and proceed while enjoying the progress!
We offer in-studio lessons at our music studio located in Orion International Academy in Ontario/Chino that's safe and gated OR we offer In-Home music lessons where our qualified instructors come to the comfort of your house weekly to guide your musical journey!
We currently offer piano, acoustic guitar, electric guitar, bass guitar, drum, voice, violin, and cello private and group lessons. We offer very exciting band experiences for students as well!
We offer completely free and risk-free trial lessons! Please message us for more info!
Fill out the form here to get a free trial lesson!
https://www.vibrantmusiclab.com/free-trial-lesson
---
Highlights
Payment methods
Credit Card, Cash, Venmo, Zelle
---
Details
Instrument
Students who have an instrument, Students who are planning to purchase an instrument
Able to read music
Student can read music staff, Student can read guitar tabs, Student cannot read music
Musical styles
I can make recommendations, Classical, Blues, Jazz, Rock, Folk, Country
Lesson length
30 minutes, 45 minutes, 60 minutes
Students age
Younger than 6 years old, 6 - 9 years old, 10 - 13 years old, 14 - 17 years old, 18 - 25 years old, 26 - 44 years old, 45 - 64 years old, 65 or older
Years experience
No formal training, No formal training; some self-taught experience, 0 - 2 years of formal training, 2 - 4 years of formal training, 4+ years of formal training
---
Photos and videos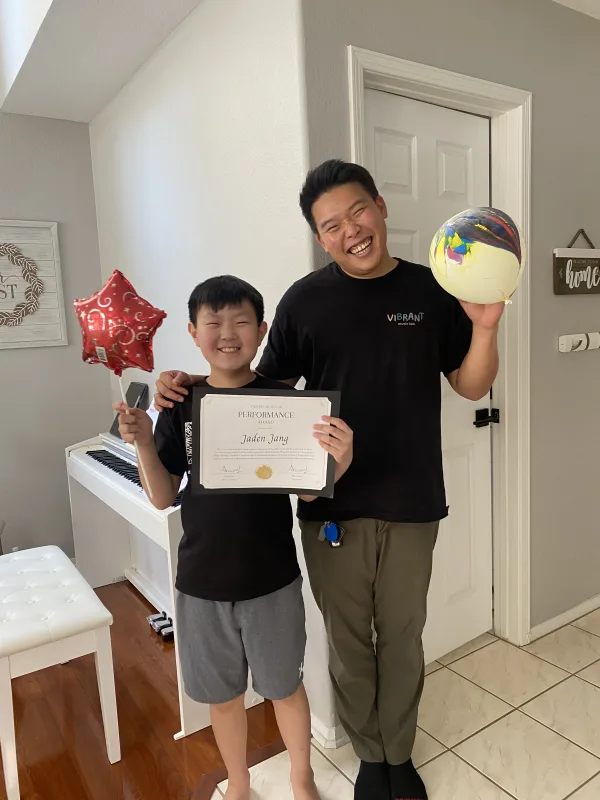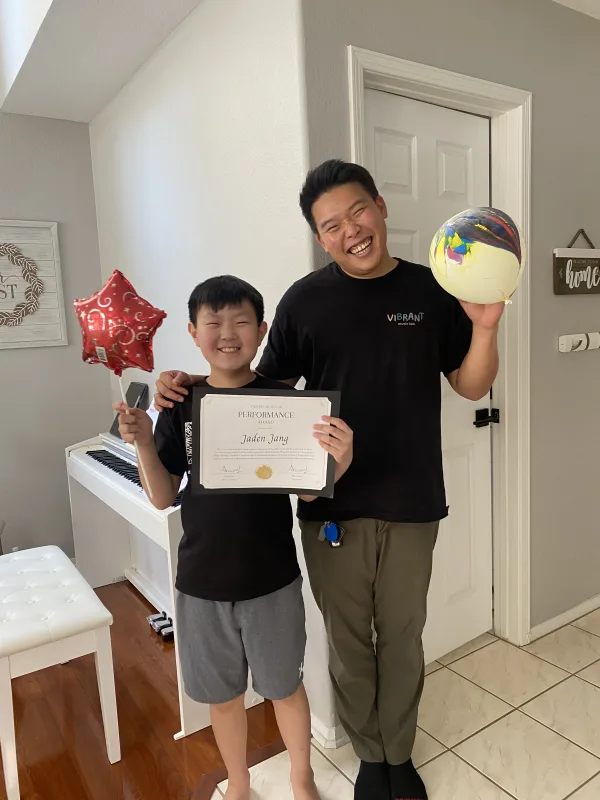 ---
Reviews
---
I like that it was engaging, and Mr.Kim makes learning music in the beginning actually fun. Unlike regular teachers, teachers here don't just make students remember the different chords, he'll help us remember it naturally, and not boring, and feeling like chore.
July 21, 2023
---
It is a true hidden gem!! Both of my son and daughter are having lessons, one plays guitar and one plays drum. The instructors are not only giving instrument lessons but they also guide both of my children into the musical world by teaching and encouraging them to form a band, composing their own songs and helping them exploring more type of musics! We are beyond grateful and feeling really lucky that we found them!! Thank you!
July 21, 2023
---
I love the teachers! They are so passionate about music and I love making music all together as a band 🤘
July 21, 2023
---
Helpful teachers; very interactive
July 21, 2023
---
---
Services offered