About
Hi I'm Sarah Beth Andrews (AEA/NATS), professional singer, actress, and voice teacher.acting coach. With 15 + years of voice training rooted in classical technique I sing and teach all styles and genres, Musical Theatre, being my specialty. I work with each student extremely personally, always catering to the student's individual needs, goals, and interests. My goal for my students is to instill a solid foundation of technique that helps them understand how their instrument works, educate them about vocal heath, and empower their creativity into artistic choices.
---
---
Photos and videos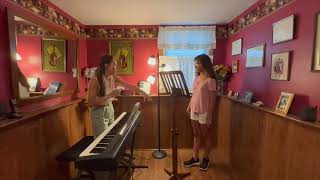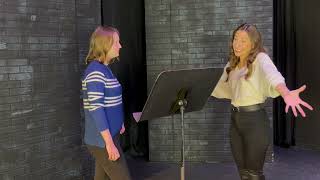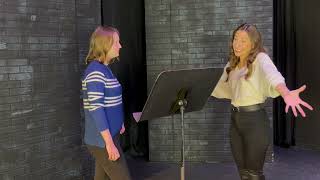 ---
Reviews
---
I have been working with Sarah for almost a year now and Ive improved greatly. Since I started working with Sarah, I have gotten better roles and have been much more confident in my vocal abilities as well as when performing onstage. Sarah has helped my expand my range and improve my voice, and has been my biggest cheerleader every step of the way.
August 31, 2023
---
Sarah has been working with my daughter for almost a year now and we couldnt be happier. Sarahs energy and enthusiasm for her craft is unmatched and it is contagious! Since beginning voice lessons with Sarah, my daughters confidence has increased and she has been casted in better musical theater roles.
July 06, 2023
---
Sarah was one of the best vocal coaches I have ever had. I stopped singing for a while and needed to get my voice back to what it was for an audition in under a month- she was able to help me achieve above and beyond that! My voice has never been healthier! I can reach notes I could never hit before (IN UNDER A MONTH!). She is such a fun and engaging teacher as well. She uses great imagery and metaphors to help the student understand. Sarah is also so great at keeping the student motivated during rough patches. On days my voice was just not doing what I wanted- she talked me through it and reminded me that I dont have to be perfect. She was so comforting and also helped me build back my confidence! She is also so knowledgeable of the singing world and has great advice about just life in general. I would highly recommend Sarah to singers of all levels. Wonderful human, fantastic performer, and amazing teacher! Thank you so much Sarah!
March 06, 2023
---
Sarah Beth Andrews is an exceptional vocal coach. She is incredibly helpful and intelligent in her field. She is always rooting fro you, even beyond your time in the lesson. It is so amazing to know someone has your back!
May 13, 2022
---
Sarah Beth is experienced, knowledgeable, and very positive to work with. Even over Zoom she was very insightful and fun. She was able to help me make adjustments in every lesson that will help me going forward, even though I'm been performing in music theatre professionally for over a decade and a half. I am so happy I was able to profit from her expertise. Thank you SBA!
May 10, 2021
---
She is the best she brought my shy daughter out of her shell she is so understanding and so professional all at the same time she has made my daughter so comfortable starting out in an industry that is so hard my daughter counts the days til her lessons she is very professional I love that she gives you updates after lessons she is always very enthusiastic encouraging and positive to her students and parents she is so helpful with portfolio and picture and is willing to make extra when your kids get a roll I feel so lucky to have found her for my daughter if you have the opportunity to work with her jump at it she's just wonderful
---
Frequently asked questions
What is your typical process for working with a new student?
I structure my lessons around the individual student's interests, needs, and goals. I start all students with an "ice breaker lesson" for 60% of my rate to ensure we are a good fit. Acting and Singing are extremely personal and I want my students to feel comfortable and satisfied.
What education and/or training do you have that relates to your work?
BFA Degree in Musical Theatre - Montclair State University Actors Equity Association National Association of Teachers of Singing Currently Teaching at 3 top NJ studios in addition to a private home studio Teacher/Director of a Musical Theatre Program Freelance Master Classes
Do you have a standard pricing system for your lessons? If so, please share the details here.
$50 p hour Virtual is still being offered
How did you get started teaching?
I had a cyst on my left vocal cord surgically removed when I was 19 and that experience changed my life! After rehabilitating/training with some of the top voice teachers, singing voice specialists, and Speech Language Pathologists, I was inspired to continue my voice training and take a vocal pedagogy class in college where I learned about vocal anatomy, health and teaching fundementals. With my new understanding my instrument and my natrual nack for treaching it was a no brainer from there.
What types of students have you worked with?
I work with students of all ages, levels, and backrounds however I particuarly enjoy working with teens and adults. My specialties include: -Technique -Female Voice Development -Musical Theatre Repertoire -Vocal Health (preventative and rehabilitative)
What advice would you give a student looking to hire a teacher in your area of expertise?
Look for someone who has an expert understanding of how the instrument works, has a trusted foundation of technique, and stresses vocal health as the priority.
---
Services offered