Personalized Yoga, Meditation, And Wellness
About
Offering affordable, accessible, intuitive, inspiring private and semi- private/ group yoga and meditation classes personalized to you!
200+ Hour Certified & Trained Yoga instructor.
Background in various types of Yoga such as Vinyasa, Kundalini, Hatha, Meditative, Yin, Restorative, Beginning, and Intro to Yoga styles and especially trained in Alignment- based Flow.
Strong background in overall anatomy and yoga posture alignment which is important for knowing how to work the body into the most ideal positions and postures in order to receive maximum desired benefits of the poses.
Deep knowledge of Yoga and Yoga Philosophy.
Experience teaching different types of classes and open to teaching all levels and ages.
Have studied and have a strong knowledge of nutrition and wellness.
4th Year Nursing Student, Certified EMT, CPR Certified.
I love to inspire and share my knowledge and passion with others.
---
Highlights
Serves San Francisco , CA
---
Photos and videos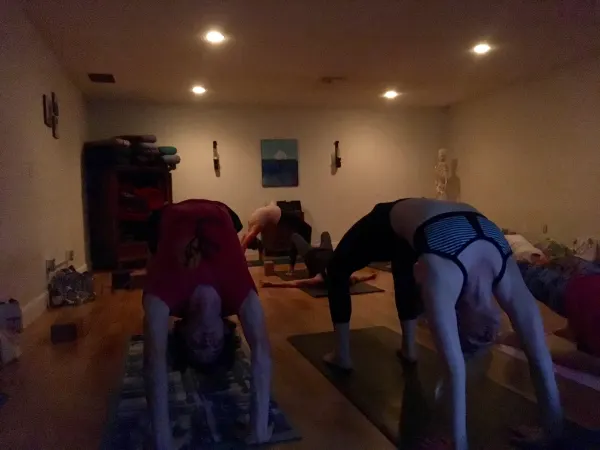 ---
Reviews
---
This was my first yoga instruction and I was surprised how much I enjoyed the class. The instructor, Noelle, was very calming and explained each move so a beginner would understand. She was also very patient and kind. The music and incense was a nice touch. It was quite a learning experience for me. I really enjoyed it!
August 14, 2019
---
She took the time and effort to sync up a harmonic experience blending music with movements perfectly. She also customizes her lessons by difficulty so everyone can have a good experience. Would deffinately go again.
August 14, 2019
---
Unique combination of yoga stretching , exercise and meditation ! Different music and voice instruction facilitated each experience ...
Namaste
August 14, 2019
---
Noelle is an intuitive and skilled teacher. She watches my poses and helps me to make adjustments based on my abilities. Her music, meditation and flow of the class always leaves me feeling rejuvenated. In short, she helps me reset my day and restore my feelings of well being.
August 14, 2019
---
Frequently asked questions
What is your typical process for working with a new student?
Let's chat! :) Please feel free to contact me and let me know what you are looking for, what your goals are, and a little about you! I believe in the power of personalizing to each student's needs.
What education and/or training do you have that relates to your work?
200+ Hour Certified Yoga Instructor
Certified EMT/ CPR Certified
4th Year Nursing Student
Have an educational background in anatomy, nutrition, health, and yoga philosophy.
Years of experience learning and practicing yoga.
Experience teaching different people and styles.
Do you have a standard pricing system for your lessons? If so, please share the details here.
Let's chat and see what works for the both of us!
How did you get started teaching?
I found my passion for Yoga and Meditation and study and practice it often and love to share it with others. I love how yoga connects the mind, body, and spirit and how many layers that there are to it.
What types of students have you worked with?
I've worked with a variety of different students. Open to all ages and levels!
Describe a recent event you are fond of.
I recently taught a class sequence on Meditative Yoga. I loved teaching it and the Meditative, special environment that it was taught in. It was so fulfilling to teach.
What advice would you give a student looking to hire a teacher in your area of expertise?
Find someone who has a message and service description that really resonates with what you are looking for. I would love to answer any questions that you may have. :)
What questions should students think through before talking to teachers about their needs?
I recommend taking a few moments to think about your needs and goals and then be as open as possible in conveying what those are in order to find a suitable match.
What are your goals (i.e. physical strength, emotional healing, relaxation, overall health, wanting to dive more into the spiritual/ philosophy side).
---
Services offered