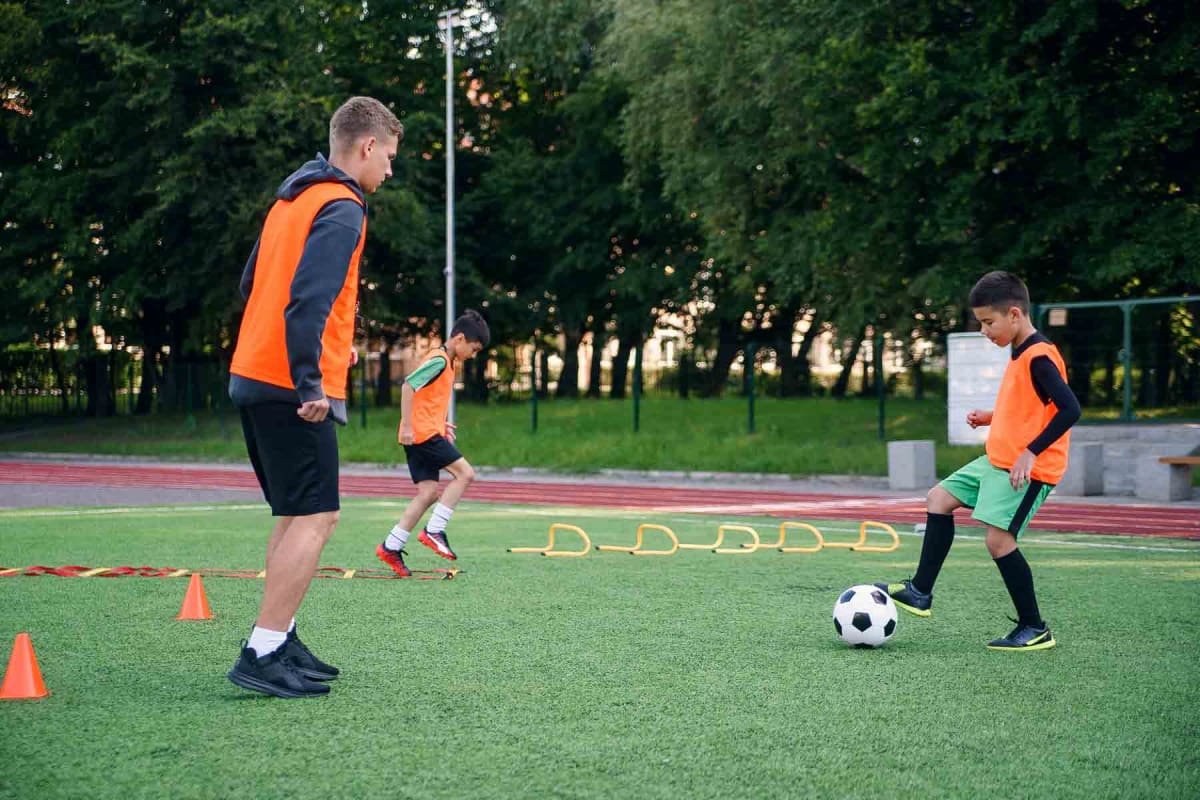 How much do soccer lessons cost?
How much do soccer lessons cost?
$40 – $100
average cost per private lesson
$35 – $65
average cost per group lesson
---
Get free estimates for your project or view our cost guide below:
$40 – $100
average cost per private lesson
$35 – $65
average cost per group lesson
---
Get free estimates for your project or view our cost guide below: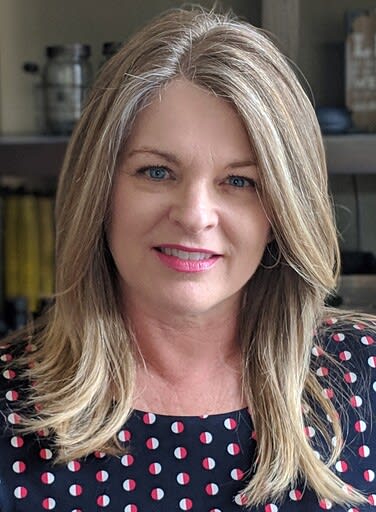 Fact-checked by
Tom Grupa
Average cost for soccer lessons
Soccer lessons cost $40 to $100 per lesson for a one-hour private lesson with a soccer coach. Small group lessons cost $35 to $65 per student for semi-private training with 2 to 5 players. Soccer lessons for kids may also include soccer camps, online soccer lessons, and digital soccer training.
Average cost for soccer lessons

| Lesson type | Average cost |
| --- | --- |
| Private coaching session | $40 – $100 per lesson |
| Small group lessons | $35 – $65 per lesson |
| Kids soccer camps | $100 – $2,000 per week |
| Online coaching session | Free – $500 per year |
| Digital training apps | Free – $400 for unlimited, ad-free access |
Get free estimates from soccer trainers near you.
Private soccer lessons cost
Private soccer training costs $40 to $100 per hour for 1-on-1 training sessions. Private lessons allow for a more catered approach, focusing on the individual player's needs. Private lessons are an investment in not only a coach but a mentor to help you reach your long-term goals.
In comparison, group soccer lessons cost $35 to $65 per hour for a small group with fewer than 5 students. Group lessons are cheaper than private lessons, but the coach's attention is divided among more students.
Private vs. group soccer lesson comparison

| Factor | Private coaching | Group lessons |
| --- | --- | --- |
| Cost | $40 – $100 per hour | $35 – $65 per hour |
| Teaching ratio | 1 coach: 1 student | 1 coach: 2 to 5 students |
| Coach experience | All levels | All levels |
| Schedule flexibility | More flexible | Less flexible |
| Customized training plans | Yes | Not likely |
Private soccer lesson cost factors
Factors that affect the cost of soccer lessons include:
Coach experience – Retired professional players and coaches with extensive experience, coaching licenses, and a robust client roster charge more than newer coaches with fewer clients.

Facility – Coaches that teach at free public parks and soccer fields are cheaper than coaches with their own soccer training facilities.

Location – If you drive to the coach, you will pay less than if the coach must travel to get to your location.

Number of players – Individual lessons are the most expensive, while small group lessons provide similar benefits at a lower cost.

Package discounts – Most coaches or programs offer packages of 6, 12, or 18 lessons at a discount of 15% to 25% off individual lesson rates.

Frequency – Players typically schedule lessons more frequently during the offseason and less frequently during the mid-season when schedules are packed with games and practices.

Advanced levels – Beginner lessons are often cheaper and targeted toward players who need to master basic soccer skills. For advanced players, private lessons address more complicated skills and topics for which coaches may charge a higher rate.

Specialty training – Goalkeepers benefit from a specialty form of soccer training specific to goalkeeping, which often costs more than general private soccer coaching.
Soccer training equipment
In addition to the lessons themselves, expect to spend at least $100 to $200 on clothing and equipment. Most private coaches supply the equipment for lessons, but you will still need to invest in the proper apparel and some basic gear for practicing in between lessons.
Additional soccer equipment costs

| Equipment | Average cost |
| --- | --- |
| Soccer kit (jersey & shorts) | $40 – $80 |
| Footwear (soccer cleats) | $30 – $150+ |
| Shin socks | $10 – $15 |
| Shin guards | $12 – $30 |
| Goalkeeper gloves | $15 – $50 |
| Soccer ball | $15 – $100+ |
| Stopwatch | $20 – $50 |
| Goal net | $30 – $150 |
| Plastic disc cones | $5 – $25 |
| Agility poles (set of 6) | $50 – $100 |
| Performance tracker vest | $270 – $300 |
| Rebounder net | $100 – $150 |
Cost of soccer lessons for kids & adults
Not every kid who plays soccer will go on to play in college or professionally, but soccer lessons are still valuable, even for recreational players. For both kids and adults, soccer encourages staying active and teaches skills like teamwork, perseverance, and decision-making that can apply to all aspects of life.
Small group soccer lessons
For players that can't invest in costly individual lessons, small group training costs $35 to $65 per student, per lesson. In small group lessons, the coach trains a group of 2 to 5 students with similar skill levels. Students get less individual attention but benefit from practicing with other players.
Online soccer lessons
Video-based online coaching courses can be free for basic tutorials or up to $500 for a full year of online training sessions. Lessons are self-paced and include step-by-step instructions paired with demonstration videos featuring real players on the field.
Digital soccer training
Yes, there's an app for that! There are dozens of free soccer training apps for players of every skill level. The on-demand training drills and workouts focus on improving your technique, tactical knowledge, fitness, and mental game.
Soccer training ball
An app-enabled Smart Soccer Ball costs $40 to $100, plus a monthly membership fee of $10 to $25. Using a specially developed ball that tracks your movements and keeps stats of your drills, you virtually train on your own to improve ball control, footwork, and other fundamentals.
Soccer camps or academies
Summer soccer camps and academies cost $100 to $2,000 per week, depending on the facility, age group, and skill level of the players. Soccer day camps typically last from 1 to 4 hours per day and are popular for learning basic soccer skills in a fun group environment.
Older kids and young adults often choose more costly full-day and overnight camps where they can focus on technical fundamentals to improve their skills before team tryouts and competitions.
Soccer lesson FAQs
How much do soccer lessons cost?
Private soccer lessons cost $40 to $100 per hour for an individual training session with the coach. Small group lessons cost $35 to $65 per hour, per student for a group of 2 to 5 students of similar skill levels to train together with the same coach.
How long are the lessons?
Most soccer lessons are 1 hour long for beginner to intermediate skill levels. Advanced players and goalkeepers may schedule longer specialty sessions to work on high-level skills.
Are private soccer lessons worth it?
Private soccer lessons are worth it to improve your game and confidence. A good coach can teach the right skills in a way that motivates the player to work hard and improve.
What skills are taught in soccer lessons?
No matter the age or skill level, these 5 fundamental skill drills should be part of any soccer training:
First touch (trapping) balls on the ground and in the air for advanced players.

Short passing (5 to 10 yards) with both feet.

Ball striking (kicking).

Dribbling with different parts of the feet to improve coordination.

Redirecting passes (1 and 2 touch passing drills).
How old does my child need to be to start soccer lessons?
Toddlers as young as 3 years old can start soccer lessons, provided they show an interest and can follow directions. It is also important that they have the coordination or motor skills to run and kick a ball. Being able to communicate by listening and speaking clearly is also helpful.
When will my child see improvement with lessons?
Get free estimates from soccer trainers near you.
Expect to see improvement with each lesson, with considerable improvement on each skill element after 3 months with consistent practicing between lessons.
Getting estimates from soccer coaches
Having the right soccer coach makes the investment worthwhile. Here are some suggestions to follow when choosing a soccer trainers near you:
Choose a coach with several years of experience and a good-size client roster.

Pick a coach with positive online reviews on Lessons.com and Google.

Look for private coaches or training camps that fit your budget, schedule, and training goals.

Make sure the coach is a good role model, displaying a good attitude on and off the field.

Watch the coach in action to see how they train and motivate their students.

Ask for references with contact information for current and past clients.
Questions to ask
When choosing a soccer trainer, be sure to ask these important questions to find a trainer that fits your needs:
What is your soccer background? Did you play in college or professionally?

How many years have you been coaching soccer?

How many students are you currently training?

What is your coaching rate and availability?

Do you offer small group lessons? If so, how many students per group?

Is there a package discount to purchase lessons in advance?

How would you describe your coaching style?

Will you customize my training to work on specific skills?