How To Hold a Guitar & Put on a Strap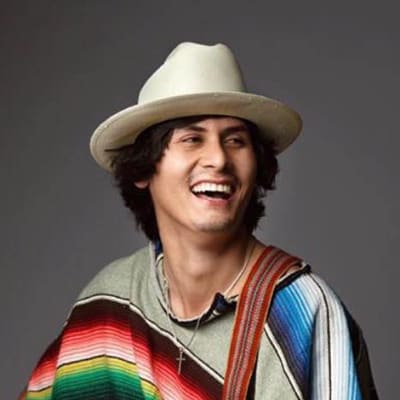 Learn How to Hold a Guitar (3 Different Ways)
Welcome to the second video in the Guitar Lessons for Beginners 14-Video Series. In this lesson, you're going to learn the correct way to hold a guitar. This is important because holding the guitar correctly will help give you good posture, prevent injury and fatigue and provide for successful practice.
When it comes to learning how to hold a guitar, there are three basic ways to do so:
Get free estimates from guitar lessons near you.
The Standup MethodThe Casual Method to Hold a Guitar
The Causal Method is a style of holding the guitar that many acoustic guitar players prefer. To hold the guitar this way, simply set the guitar on your right leg (or on the left leg if you're left-handed) while placing your foot on an inexpensive footstool.
A footrest does two things. First, it helps to elevate your leg. Second, a stool brings the guitar to a comfortable position for playing. This is useful for players who plan to play their guitar for long periods of time.
Be careful not to slouch the guitar while trying to watch your fingers as this produces poor posture and fatigue. Always keep the guitar in a straight and upright position when playing by keeping your strumming arm close to you and tightly around the guitar.
The Classical Method to Hold a Guitar
The Classical Method of holding the guitar is most suited for those who have a classical guitar, but many other types of players find it to be the most comfortable position.
Rather than placing the guitar on your right leg, the classical style involves putting the guitar on your left leg while resting your left foot on a footstool.
If you're left-handed, do the opposite. Guitar players find this position to be easier because the classical method brings the neck of the guitar higher and more to the left making it easier to stretch your arm reach all of the notes on the guitar's fretboard. However, this method is harder to hold for a long time.
Standing Up With A Strap
If you plan on using the Classical Method of holding the guitar, using a strap will make it much easier to hold the guitar for long lengths of time without getting tired.
Get free estimates from guitar lessons near you.
Also, you might find it more convenient or to your liking to perform while standing with a strap. You can find a wide range of guitar straps at music stores depending on your needs and taste. While you may find some straps for as cheap as $10, many leather straps will require an investment of as much as $200.
Holding Tips
You'll find you have many options for choosing a method or style when it comes to playing and holding your guitar.