About
At Golden Ridge we focus on the learning of being the best horsemanship skills one can have. We proud ourselves with taking complete beginners in this sport and taking them all the way to the top of the horse show world. Weather you want to just learn to ride or have an interest in owning and showing your own horse, at Golden Ridge we can make those dreams come true.
Most I personally, Owner Teddi Estes-Boe, enjoys seeing happen at Golden Ridge Stables is when a new clients feel the achievement of their goals they set with us in the beginning. Whether it be, just learning to trot on a horse or taking a show horse in the ring for the first time. Seeing my clients that have been with us for over 15 years manage to finally get qualified and make it to the Worlds Championship Horse Show. We are a family barn that supports one another and that puts a huge smile on my face.
---
Highlights
Serves Castro Valley , CA
---
Photos and videos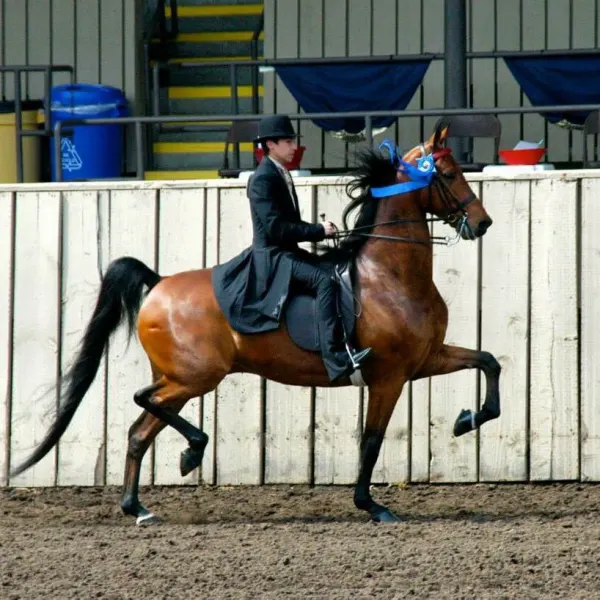 ---
Reviews
---
I have been riding with Golden Ridge for nearly eleven years. The trainer-instructor Teddi Estes is superb at helping riders be comfortable on a horse. She is patient, kind, and extremely knowledgeable about Saddlebreds and about good riding. Her clients range in age from four to nearly seventy, and she instructs them all with ease. Moreover, her horses are happy, healthy, and in superb condition.
As far as I'm concerned, Golden Ridge is one of the top Saddlebred barns in California, if not the entire West.
June 30, 2020
---
Teddi is a very talented trainer with horses - yet she is also an extremely talented teacher when it comes to children. She taught my two boys to ride over the course of six plus years and I will be forever grateful for her for the patience and endurance that she exhibited with my boys. They went on to show and did a fantastic job and I was so proud of them. They could not have done this without Teddi's incredible instruction.
June 29, 2020
---
Frequently asked questions
What is your typical process for working with a new student?
Safety is our priority while having fun learning about horses. Our first lesson is basic horsemanship. Grooming the horse and how to groom a horse with which brushes and why we use certain brushes. Saddling and bridling the horse. Mounting the horse safe way. Learning to guide, circles, and stop the horse. Posting and trotting. Then untacking the horse and grooming, putting away the horse.
What education and/or training do you have that relates to your work?
Personal success has been:
3rd place at the Worlds Championship Horse Show and National Championship Horse show in 2001.
Silver Medal in Pleasure Equitation in 2002
Top 10 U.P.H.A. Pleasure Equitation in 2002
Junior 5 Gaited Horse Embarcadero 2013
numerous High Points Nationally and Regionally in California and United States.
Do you have a standard pricing system for your lessons? If so, please share the details here.
Tiny Tots, 3yr - 5 yrs old $35 for 30minutes
6 years old to Adult Private Lessons 1 hour $60
6 years old to Adult Group Lessons 1 hour $50
Driving Lessons $60
We offer monthly packages for weekly, Bi-Weekly, Twice a week to up to Four times a week.
How did you get started teaching?
First job at 15 years old was grooming and working for Hollow Haven Farm in Wisconsin. My second job working at a barn was a Riding Instructor at Diamond Hills in Livermore, California. I then went on to Hollow Haven Farm in Oconomowoc, Wi for an Assistant Trainer Postition.
---
Services offered