About
Golf Lessons for all skill level. We take your skill, combine it with your will to achieve the Next Level. Our lessons are low pressure and full of excitement. We will Identify your skill level and create a master plan just for you.
I enjoy the process, seeing the improvement in a student game going from one level to the next. Most golfers even the beginners have the skill to play golf, what they struggle with is the consistency. My job is to increase your consistency in every aspect of the game.
---
---
Photos and videos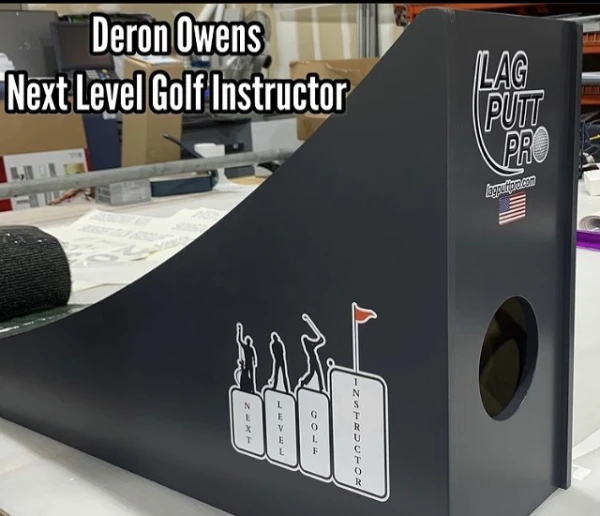 ---
Reviews
---
The level of confidence it gives you once you trust the process. I highly recommend this program.
August 31, 2022
---
So profession! Always on time! Patient, knowledgeable, and I could go on and on. I'm thankful for him, I feel more confident in my swing, my swing improved so much. It's fun instead of frustrating. If you do what he tells you to do consistently, you will be a great golfer.
---
Deron was very knowledgeable and patient with all of the students in the Lady in the Caddie golf clinic. They all gave us positive feedback and indicated that he made the experience a memorable one. We will definitely be booking Deron again.
September 07, 2021
---
---
Patience, able to take what you do well and work with that. Not trying to change swing or grip.
August 23, 2021
---
Deron is an awesome golf coach! We are so thankful he gladly took on our little guy even at a young age! He has so much patience and makes the game super fun and enjoyable for my son! He also takes the time to make fun videos for us to watch him improve. My son is definitely getting better each time we go! Thank you Deron for being our favorite golf coach!
August 22, 2021
---
Frequently asked questions
What is your typical process for working with a new student?
1: A evaluation call or Zoom call to identify skill level
2: Develop a personal plan in place to address your specific needs and desires. After we identify this we will trust the process
3rd Execute the plan
What education and/or training do you have that relates to your work?
Deron Owens : Certified Golf Teaching Professional
Assistant Golf Pro : Chapel Hill Golf Course
USGTF/WGTF Lic.# 10813
President : The Ball Strikers Golf Club
Member : USGA/GSGA
Member : U. S. Golf Teaching Federation
Member: World Golf Teaching Federation
Member : Chapel Hill/Mirror Lake Golf Club
Member: ClubCorp Private Golf Club
Graduate of Jacksonville State University
Graduate of Central Alabama Community College
Major Business Administration, Business Management
Computer Info Systems and Programming
Do you have a standard pricing system for your lessons? If so, please share the details here.
Pricing depend on each individual plan, we have individual skill lessons available, playing lessons available, individual packages as well as group rates. Allow us to create a plan and a price that works for you.
How did you get started teaching?
I have excelled in the corporate world for 27 years teaching, training and developing a multitude of managers and directors. My desire is to see improvent in every aspect of life has transitioned over into golf.
I watch how my game improved over the years through a system I developed called the ITE and realized that my current system could help every golfer. Golf is a game that can be enjoyed by all ages and allows you to see some of the most beautiful courses in the world. Give me a student who wants to improve, give me a child who is willing to learn the game and you have a committed coach who will take them to the Next Level.
What types of students have you worked with?
I have taught all ages from 4 to 80 years of age. My experience range from:
Experienced golfers who wants to shoot in the 70's
Intermediate golfers who are looking to break 80, 90 or 100.
Beginner who are beginning their journey in golf
Kids who have a desire to learn the game
Game improvement working on specific parts of the game ranging from driving accuracy, short game, iron play, wedge play, putting and course management.
Describe a recent event you are fond of.
Watching the instant improvement in a golfer game after 5 min. of instructions. Understanding that most golfer just need guiedence to make progress. I have also taught a 4 year old how to simple hit the ball, to advance the ball no focus on technique or style simply just hitting the ball. It is the first step to learning this game and from there it all down hill.
What advice would you give a student looking to hire a teacher in your area of expertise?
Look for someone who will teach you more than how to swing a club. There are so many different levels to the game of golf. My goal is to educate you on all aspects of the game so your experience can be increased. Look for an instructor that will operate at your pace, display patience and make your experience fun.
What questions should students think through before talking to teachers about their needs?
1. Why do I want to take golf lessons
2. What do I want to accomplish with golf lessons
3. Am I willing to go through the process to improve
---
Services offered