Miss Bridgett Teaches Riding!
About
I offer lessons to people that have access to or own a horse or are in the market to buy their first horse. I have over 40 years experience with western, English, trail riding, and carriage driving and offer my expertise to anyone of any age that wants to learn about riding and caring for horses! I love teaching children as I've loved horses as long as I can remember. I can help you chose your horse and help you chose boarding that suits you or help you set up your own horse property. I'm looking to be a friend to help guide you in your new equine lifestyle! Riding is a wonderful way to relax, appreciate life and enjoy for adults and a great way to teach discipline and responsibility to children and teens. I am available to help you get started with your first horse or to help you in the long run, whichever you prefer! I'll come to you! Again, you MUST have a horse, have access to a horse, or be in the market to purchase a horse currently. I do not have horses right now. I'm also happy to discuss a barter- lessons for your child or yourself in exchange for some saddle time for myself. Let's talk!
---
Highlights
Payment methods
Cash, Square, Apple Pay, Zelle
---
Details
Riding styles interested in
I can make recommendations, Western, English
Have a horse
Students who have a horse, Students who do not have a horse
Student's interests and goals
Fun and relaxation, Trail riding, Show jumping, Dressage
Experience level
No experience, Beginner, Intermediate, Advanced
How often
Once a week, Multiple times a week, Recommendations available
Student's age
Under 5 years old, 5 – 10 years old, 11 – 13 years old, 14 – 18 years old, 19 – 25 years old, 26 – 45 years old, 46 – 65 years old, Over 65 years old
---
Photos and videos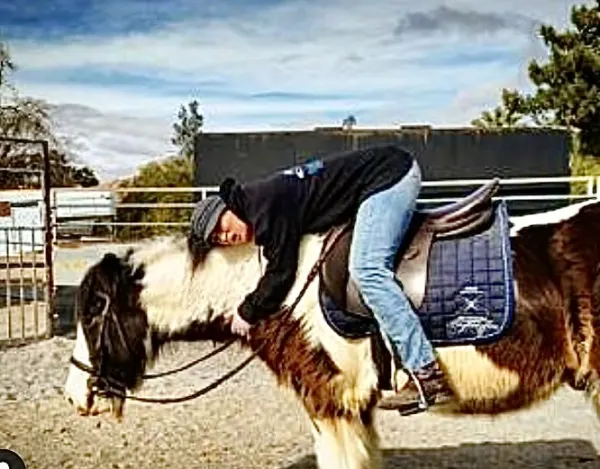 ---
No reviews (yet)
Ask this instructor for references. There's no obligation to hire and we're
here to help
your booking go smoothly.
---
Services offered