About
We focus on a life with horses in a holistic way. You or your child will not only learn to ride, but learn to care for and be responsible for your horses well being.
As you progress you can decide where you would like to take your riding. We specialize in confidence building, anxiety relief, fitness as well as many other positive aspects of working with horses.
My background is in 3 day eventing, dressage and show jumping. I focus on biomechanics, relaxation and effective communication between horse and rider. Extensive experience as a show coach.
I love watching my students interact with the horses and break through barriers they have been struggling with. It's amazing how so many struggles or obstacles are made a little easier when you have a horse in your life.
---
---
Details
Riding styles interested in
I can make recommendations, Western, English
Have a horse
Students who have a horse, Students who do not have a horse
Student's interests and goals
Fun and relaxation, Show jumping, Dressage, Cutting, Reining
Experience level
No experience, Beginner, Intermediate, Advanced
How often
Once a week, Multiple times a week, Recommendations available
Student's age
5 – 10 years old, 11 – 13 years old, 14 – 18 years old, 19 – 25 years old, 26 – 45 years old, 46 – 65 years old, Over 65 years old
---
Photos and videos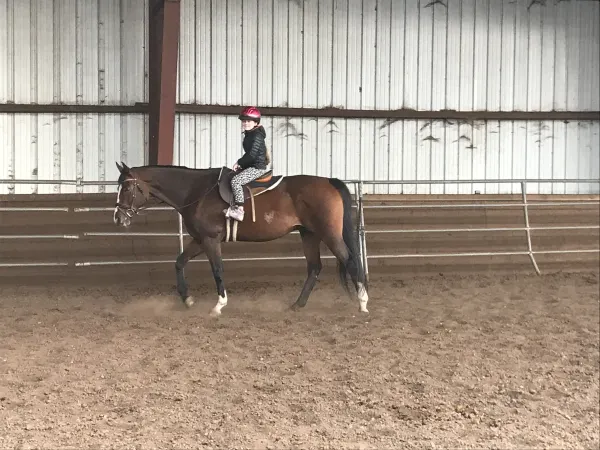 ---
Reviews
---
Brittnay is fantastic and is the only instructor close to Portland (that I could find) that has an eventing background. Brittnay will help you improve and grow as a rider both in and off the saddle. I really respect her philosophies around caring for a horses well-being and happiness, and that it isn't about constantly drilling them day in and day out. She allows her horses to be horses! I was also pleasantly surprised that she has experience doing some liberty work as well. I've seen how that kind of ground work can build trust and respect between horse and rider, and it's so cool seeing an eventing pro incorporating that into their training program. She has a nice variety of schooling horses to best match your experience level and the facilities are nice with a large indoor arena as a smaller (but still large) outdoor arena.
---
Frequently asked questions
What is your typical process for working with a new student?
We always start with safety on the ground, then we learn to groom, tack and lead our horse. We will start with balance exercises and getting comfortable on the horse.
What education and/or training do you have that relates to your work?
United States Pony Club HA certified.
Do you have a standard pricing system for your lessons? If so, please share the details here.
Program is $200 per month for 1 lesson per week.
$360 for 2 lessons per week
$60 for single lessons
---
Services offered