About
I come to you! Alan Scott Guitar Lessons at AlanScottBand.com is the culmination of a lifetime of experience teaching guitar. I began teaching in 1984, started my own practice in 1995, and have taught students as young as four to students in their 70's. My background is from University of Maryland and George Washington University in Music Theory and Composition and Classical Guitar Performance, as well as hundreds of shows playing jazz, rock, country, funk, and blues.
Every student learns differently and at their own pace. In my experience the learning must be interactive. Learning is conversation that empowers the student to share knowledge and answers to their questions. Students will not only learn the songs they love, they will learn about music itself. This activity is very beneficial for the brain in all areas of interest.
My students have gone on to study music at Berklee, Oberlin, University of Miami and many others due, in part, to my letters of recommendation.
Above all, music should be fun. You will learn your chords, your scales, and train your ear. You will hear music very differently as your skills become more sophisticated. My ultimate goal is for students to be able to create their own music from their own inspirations.
Take a free first lesson and start your journey! These lessons are limited to my availablity so please reach out soon at 2022532804. I teach in Montgomery County and Upper NW DC. I come to you! Zoom lessons are availble as well.
What I enjoy most is seeing beginners start to identify playing music as part of how they see themselves. When a see a kid realize there is more to themselves than when they started, that's what it's all about. When I see an adult student return to the guitar and excel at it, I have done my job. To me, playing guitar with friends and writing songs are two of my favorite things, and I get to do it for a living. I can remember that moment when my I knew in my heart this is what I want to do. To take this a gift a teacher gave me and run with it. If I can share that experience with the students and they have that avenue to express themselves, that's what I love about my job. I have produced 4 albums, made 4 music videos, the new 100 anniversary Ourisman commercial, and have licensed 8 songs to MTV and fortune 500 corporations. I have my own band and play dozens of shows a year. But through all of it, I have always taught because I love teaching.
---
---
Details
Musical styles
Rock, Country, Blues, Jazz, Folk, Classical, Recommendations available
Guitar style
Acoustic guitar, Electric guitar, Ukulele, Banjo, Recommendations available
Has instrument
Student who have a guitar, Student who don't have a guitar, but are planning to purchase one
Years experience
No formal training, No formal training; some self-taught experience, 0 – 2 years experience, 2 – 4 years experience, 4+ years of experience
Able to read music
Students who can read music staff, Students who can read guitar tabs, Students who cannot read music
Lesson length
30 minutes, 45 minutes, 60 minutes
Student's age
Under 5 years old, 5 – 10 years old, 11 – 13 years old, 14 – 18 years old, 19 – 25 years old, 26 – 45 years old, 46 – 65 years old, Over 65 years old
---
Photos and videos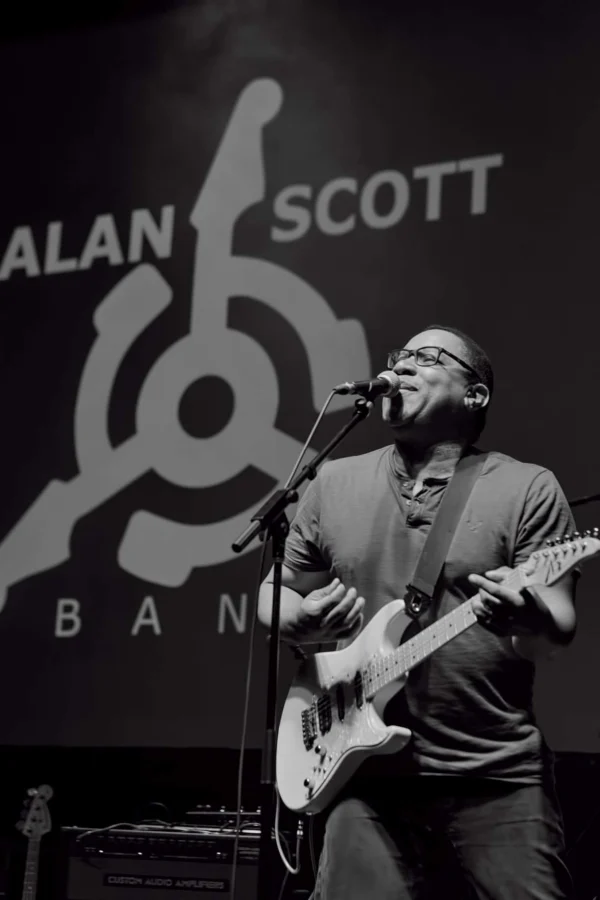 ---
Reviews
---
Alan Scott has quite the spirit of success which he translates to his teaching methods. 100% positive and he always makes sure you understand what he's teaching you. Professional, instinctive, and upbeat are just a few words I'd use to describe Alan Scott!. You can't go wrong wrong under tutelage.
---
Alan is the best! A great musician and not only that, a great teacher.
---
Alan is great. He takes it slow and meets you where you are at in your playing. He is patient and very knowledgeable.
---
He's patient and encouraging with my child. He respects our time by arriving promptly and starting the lesson in the same manner.
---
Alan is a great teacher because he loves to teach, just as his dad did. Alan is an incredibly talented musician, songwriter and singer. When I started lessons with Alan he asked me a lot of questions about my music interests and crafted early drills and chords that later miraculously had me playing one of my favorite Pink Floyd songs. He is a genius at quickly writing out tablature for drills and songs. He can teach any age, any guitar and any type of music. Alan is funny, interesting and a great human being.
August 30, 2019
---
Alan is a gem of a teacher and a wonderful example of an artist who supports and nurtures other artists not simply because hes a teacher -- and thats what teachers do -- but because he gets, what it is to be a young person with a passion for music and a desire to make that passion a part of your life.
Alan didnt just teach our child how to play guitar --although he did that like a pro -- he also taught her how to grow with and through her love of music. Alan went beyond teaching chords or reading charts and helped her expand her passion for music and her skills as a vocalist and then went further and found ways to be a mentor in support of her talent for writing music and lyrics.
It is Alans skills a good person that makes him such a great teacher.
Luckily, Alan is also a great performer, guitarist, and artist in his own right because those experiences give him a unique insight into the reality of being a musician, the needs of each individual student to be their best, and allow him to craft an approach and program that works for them. Music isnt cookie cutter and neither is teaching it.
We couldnt recommend Alan more highly.
August 16, 2019
---
Frequently asked questions
What is your typical process for working with a new student?
First I assess the students current experience, to find out what chords or scales they have learned on guitar,bass or piano, etc.
For general lessons with beginners, the first lesson is about understanding chord diagrams and finger placement for best tone. I have perfected a series of open chords lessons that develop the chording hand the quickest way with best tone.
From these chords we develop songs that they know, starting for the simplest two song to three or four chords. They can make a list of their favorite songs on a YouTube playlist, so we can access the songs during the lessons.
If the melody is simple, and they are motivated to try, I will teach a bit of melody to get individual fingers moving. This would be a great opportunity to show the enitre scale so the student sees the notes as part of a larger system for any song, not just one.
Many song have 4 chords or less, so alot of confidence can be devolped here with different strums and fingerpicking.
The chords are also part of a larger system. Once the student has played 15 or so songs in the key of G, for example, they will see that 6 (3 major and 3 minor)chords tend to appear over and over. At that time the student can learn the chords come from scales, so they can start to play by ear on some songs. This process takes about a year with practice. During this period, I have students teach a family member a chord or easy song to build their confidence arounf the material.
What education and/or training do you have that relates to your work?
I Majored in Music Theory and Composition at Univesity of Maryland College Park and Classical Guitar Performance at George Washington University. I started teaching guitar professionally in 1984. I can play any style and I have been teaching full time since 1995. I have taught students with learning disabilities, and children as young as 4. I can ust the French system of music for French students. If you can count to six I can teach you to play guitar. I have refined and personalized my approach to help each student acheive their individual potential. I also highly encourage adults to take up the guitar. Maybe you had a less than positive experience before, and felt intimidated. I am here to help you do what you want, not what I want. After years of experience with one on one lessons, I understand how diffrent people learn, and I can use that ability to the students advantage.
---
Services offered