Colorado DanceSport Ballroom & Social Club
About
From recreational and social dancers to national champion competitors, from wedding couples looking to create that special first wedding dance to dancers who just want to learn a few steps for that special occasion, all can say they found their home here at Colorado Dancesport®. We have packages to suit every age and every style to keep your dancing one step ahead. Yet, we have no contracts to sign or long-term commitments to burden your budget. Our talented family of instructors and staff believe that it's you, our students, that sets us apart from other dance schools. The passion and dedication of our students is what makes Colorado Dancesport® the number one place for Denver to learn the art of dancing with a partner.
---
Highlights
Payment methods
Credit Card, Cash
---
Details
How often
Once a week, Multiple times a week, Recommendations available
Student age(s)
19 – 25 years old, 26 – 45 years old, 46 – 65 years old, Over 65 years old
Experience level
No experience, Beginner, Intermediate, Advanced
Number of students
One person, Two people, A group of 3 – 5 people, A group of 6 – 10+ people
Dance style
Ballroom, Country, Line dancing, Swing, Salsa
Goals and interests
Developing a hobby, Preparing for a wedding, Preparing for an event or performance, Working out and physical health
---
Photos and videos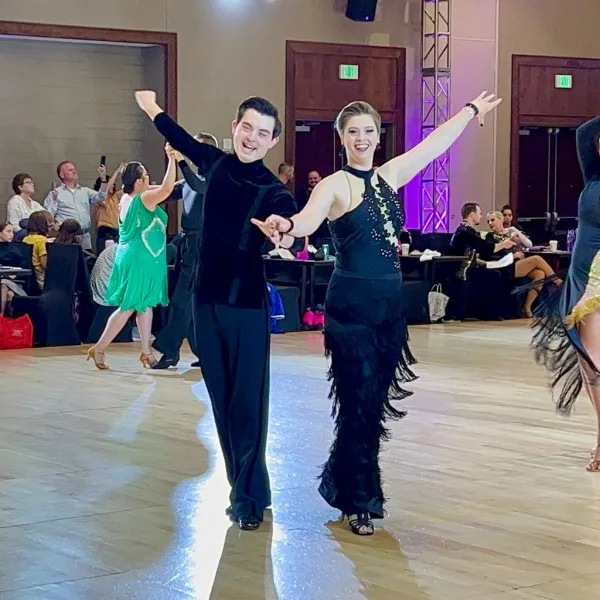 ---
Reviews
---
I really love this studio!
I was so nervous to start ballroom dancing a year ago, but the instructors are all incredibly knowledgable, kind, and patient, and they have helped me improve my dancing skills immensely to the point where I am looking to start competing.
They've really built a community that's fun to be around! It makes the monthly social parties a blast to dance at and a great place to practice what I've learned in classes or private lessons. I like that there is a wide variety of classes from ballroom dances like waltz, tango, and cha cha to fitness classes like La Blast and Groov3. It really means there's something for everyone.
Overall, I can't recommend this studio enough to anyone interesting in dancing. Whether you're just starting out, looking for a memorable first dance, or wanting to compete, this studio is the place to take your dance journey to the next level.
December 07, 2022
---
Love the friendly people and amazing instruction!!'
November 15, 2022
---
Frequently asked questions
Do you have a standard pricing system for your lessons? If so, please share the details here.
Our prices vary depending upon the type of dance experience the client desires. Most new clients begin with our introductory special, which is $25 for (3) 25-minute lessons and two weeks of unlimited group classes.
From there, our group classes are $15/class with the option to purchase a group card and or a membership (for added value and per class discount). Our private lessons are $90 per 45-minute lesson. These are discounted with purchase of a membership.
We also offer select packages for those looking for assistance in creating their 'first dance' wedding moments.
What types of students have you worked with?
We work with students at any level in their dance journey. From the novice beginner to seasoned competitor, Colorado DanceSport Ballroom & Social Club provides a quality dance education within a dynamic and inclusive community that shares in their love of dance.
---
Services offered