About
I love to sing! Do you? My mother taught me to sing when I was an infant. Teachers at university and music school prepared me to be a professional classical vocalist. Even more, I love teaching/coaching singing to others - children and teens, ensembles, choirs, and teachers who wish to improve their skills. Everyone can learn to sing with beauty, artistry and joy. Singing brings love, hope, inspiration, energy, and healing to individuals and communities throughout the world.
Life has brought me the opportunity to wear many hats: lyric soprano, classical voice teacher, pianist, and children's choir conductor/artistic director for students ages 4 – 18. During my son's childhood, I was asked to step in to replace the music teacher at his Montessori school who quit without notice two weeks before the school musical. Then asked to stay on. Fell in love with teaching children how to sing, and spent five years at the school developing my program. When the Berlin Wall fell in 1989, I had a vision of children all over the world singing together for friendship and peace. With the help of parents of my students, World Children's Choir was founded in 1990.
An activity that brings special joy to my heart is working with multi-generational groups of people. Convincing them that they can all sing songs they might never have attempted on their own - and preparing them to give a beautiful concert after a week of daily rehearsals.
My newest project is the Global Family Virtual Choir. Children, teens, adults, elders all over the world are invited to download music for their part, audio and video learning aids from the Easy Virtual Choir website, learn the music, and record to add their voices to our virtual video of "Love Sings a New Song for the World," written by James Selway, World Children's Choir associate director. Rehearsals are offered on CommonTime through World Children's Choir account. I can also do private coaching for individuals and sessions for teachers.
Current Project:
Making a virtual singing video of "Prayer for Ukraine." Go to www.globalfamilyvirtualchoir.org for information about how you can join. This is a free project. Videos are due by 4/30/22.
Education
• Catholic University of American; Master of Music, vocal performance
• The Juilliard School; Professional Studies Program, vocal performance
• Southeast Missouri State University; Bachelor of Arts, music major, English minor
During my years as a classical vocal soloist due to the wonderful training provided my teachers, I won many contests, performed on radio and television, appeared with numerous symphony orchestras, oratorio societies, opera companies, and in concerts at the John F. Kennedy Center for the Performing Arts, United Nations, and Carnegie Hall.
Much satisfaction and joy have come from coaching professional singers and giving private lessons, master classes, and workshops for voice students of all ages; presenting training workshops for teachers who wish to learn and/or improve their own production and techniques to use with their students; conducting choirs and student operetta productions (five Gilbert & Sullivan, Hansel and Gretel, Narnia) throughout the United States, Canada, and Bermuda.
World Children's Choir has been appointed to the Artists Roster of the John F. Kennedy Center for the Performing Arts in Washington, DC USA. WCC has performed for former U.S.A. Presidents Barack Obama, George W. Bush, William H. Clinton, and George H. W. Bush; Justices of the United States Supreme Court and the European Court of Justice; Mikhail Gorbachev; Queen Noor of Jordan; Queen Sofia of Spain; and Kofi Annan. Performances at high profile events include such venues as the White House, the Kennedy Center, on Capitol Hill, US Department of State, US Department of Justice; Organization of American States, Pan American Health Organization, the World Bank, at the United Nations; and for various national and international charities and television and radio broadcasts.
---
---
Photos and videos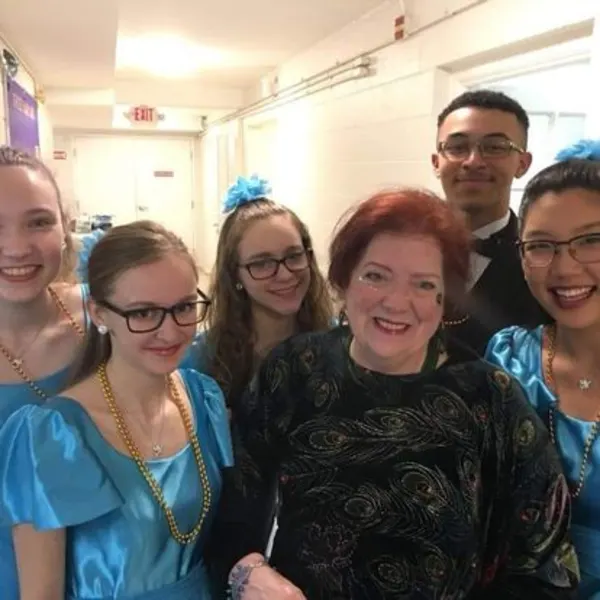 ---
No reviews (yet)
Ask this instructor for references. There's no obligation to hire and we're
here to help
your booking go smoothly.
---
Frequently asked questions
What is your typical process for working with a new student?
All voice lessons, coaching sessions, and master classes are held online. Students who live within 250 miles of the Washington, DC area connect using the JackTrip Labs technology that makes it possible to sing and play instruments live at the same time with no discernable latency. The service has state of the world audio sound as well. Lessons are 30 minutes for students in sixth grade and under. Lessons for students in grades seven or older take 45 minute lessons.
What education and/or training do you have that relates to your work?
Bachelor of Arts in Music/voice major
Southeast Missouri State University

Master of Music/voice major
The Catholic University of America

Professional Studies Program
The Juilliard School

Over 40 years of teaching classical voice lessons, coaching, as well as performing experience in oratorio, opera, and operetta. 32 years leading World Children's Choir.



Do you have a standard pricing system for your lessons? If so, please share the details here.
Pricing varies depending on which plan is selected.

One Trial Lesson: 30 minutes/$50; 45 minutes/$75

Annual

30 Lesson/6 Master Classes Plan:

- 30 minutes (sixth grade and under): $1,740 for ten months

- 45 minutes (seventh grade and up): $2,490 for ten months

Activity Fee: $100/year



---
Services offered