I Want To Help You Fall In Love With The Piano.the Stephen E Pearce School Of Piano
About
I have been a full-time piano teacher for 40 years. I have been very fortunate to have had the opportunity to share the gift of music with so many people. I have played professionally, taught music in an elementary school, and in 1973 stated my own School of Piano. I teach classical piano, theory and ccomposition. I also teach other styles of music including blues and jazz, playing using lead sheets (playing using chords), playing by ear and learning to write your own music. My specialty is teaching students who are burned out on traditional piano instruction. My biggest compliment is to hear that former students own a piano and play regularly. My website is stephenepearce.com.
---
Highlights
Payment methods
Cash, Check, Zelle
---
Details
Years experience
No formal training, No formal training; some self-taught experience, 0 – 2 years experience, 2 – 4 years experience, 4+ years of experience
Able to read music
Student can read music, Student cannot read music
Lesson length
30 minutes, 45 minutes, 60 minutes
Student's age
5 – 10 years old, 11 – 13 years old, 14 – 18 years old, 19 – 25 years old, 26 – 45 years old, 46 – 65 years old, Over 65 years old
Student has instrument
Students who have a piano, Students who have a keyboard
Interested musical styles
Classical, Jazz, Pop, I can make recommendations
---
Photos and videos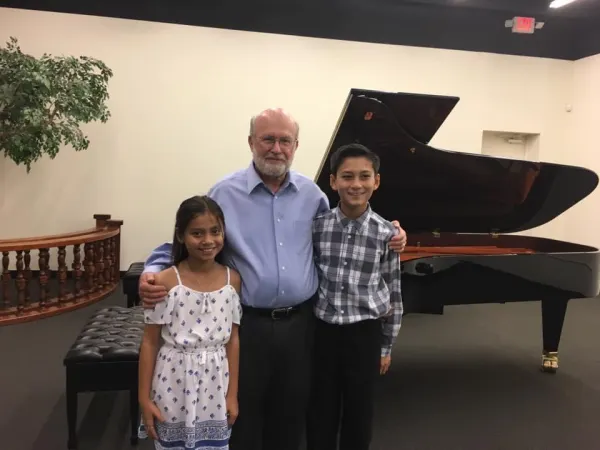 ---
No reviews (yet)
Ask this instructor for references. There's no obligation to hire and we're
here to help
your booking go smoothly.
---
Frequently asked questions
What is your typical process for working with a new student?
Offering an introductory session free of charge finding out what they want to learn and explaining how I would teach them.
Do you have a standard pricing system for your lessons? If so, please share the details here.
$120 a month for a half hour lesson every week.
---
Services offered