Ashley Kovacs Music Lessons
About
I am a freelance musician in the area who teaches violin, viola, and piano. I have been trained to teach the Suzuki method but I am also passionate about teaching bluegrass and fiddle music if the student is interested (I used to be in a bluegrass band for a few years). I take an approach of teaching the student how to play by ear but also how to read music early on. I've been private teaching for around 7 years and frequently sub with the NC Symphony, play for weddings, nursing homes, and various other places in the triangle. I've also had experience teaching String orchestra at Cardinal Gibbons High School, Saint Raphaels School, and Our Lady of Lourdes School.
I love working with kids and I love to see them progress and have fun while they learn! I love incorporating games into teaching and I especially love watching the joy on kids' faces when they create their on music!
My website is: ashleymusicstudio.musicteachershelper.com. You can also check out some YouTube performances by searching for Ashley Kovacs violin!
---
---
Details
Years experience
No formal training, No formal training; some self-taught experience, 0 – 2 years experience, 2 – 4 years experience, 4+ years of experience
Able to read music
Student can read music, Student cannot read music
Lesson length
30 minutes, 45 minutes, 60 minutes
Student's age
Under 5 years old, 5 – 10 years old, 11 – 13 years old, 14 – 18 years old, 19 – 25 years old, 26 – 45 years old, 46 – 65 years old, Over 65 years old
Student has instrument
Students who have a piano, Students who have a keyboard
Interested musical styles
Classical, Pop, I can make recommendations
---
Photos and videos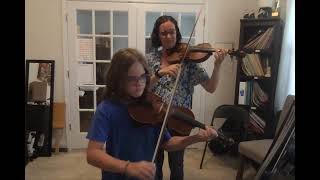 ---
Reviews
---
Ashley is a very talented musician and great at working with kids. She is always so positive and patient. She makes learning music fun while imparting important skills. My son has learned so much during his time with her.
October 04, 2023
---
Ashley opened my eyes to the fact that not all violin lessons had to aim for classical/orchestral music. Since I am a lone player, I really dont need to e ready to perform with a string quartet (or worse!)
---
Ashley has a GREAT ATTITUDE about teaching. She is very gentle with her students and is able to assess the students ability. When it was time for me to purchase a new violin, Ashley went with me to try them out to make sure I had the best information and could make the best possible decision. She did the same thing when it was time to purchase a new bow. I would say that she has demonstrated an excellence in teaching that is rare these days. She never gets upset if I am not where I should be from lesson to lesson. Each lesson she re-evaluates my progress and focuses in on trouble areas. I am able to see almost immediate improvement. I even hired her to teach my son piano lessons...that is how impressed we are with her. She is AWESOME!! I would recommend her to any student young or old!!!
---
Frequently asked questions
What is your typical process for working with a new student?
I offer a free trial lesson to see if the student would be a good fit for me and me for them. I then try to get to know the child and their individual needs and based on that show them in that lesson what we'd be working on for the future.
What education and/or training do you have that relates to your work?
I have been playing the violin for around 21 years and have also took piano for around 5 years. I can play/read the viola clef (alto clef) as well and can play cello at an intermediate level based on my Strings education. I went to the University of Michigan and studied Violin Performance and Music Education. I have also freelanced since after college in the area and have perofrmed frequently with the NC Symphony, Chamber Orchestra of the Triangle, Raleigh Symphony orchestra, numberous weddings/church services, and nursing homes. I also played in a bluegrass band for two years called Swift Creeek!
Do you have a standard pricing system for your lessons? If so, please share the details here.
$35 for 30-minutes
$50 for 45-minutes
$65 for 60-minutes.
I offer a sibling discount (individual basis) and also a babysitting discount every month if parents are willling to watch/help with my kids while I teach theirs.
How did you get started teaching?
I've been teaching since high school because I've always had a passion for working with children. I was a counselor at a local music camp and that really sparked the love for teaching that I pursued n college and behind!
What types of students have you worked with?
I've worked with students as young as 3 years old to adults. Home school students, traditional school, or year-round students. Students with no prior experience and students with many years of experience.
Describe a recent event you are fond of.
I conducted at a music camp at Meredith College called Lamar Stringfield Music Camp and loved getting to perform with the kids. We even had dads volunteer to dance for Father's Day to one of the songs we played!
What advice would you give a student looking to hire a teacher in your area of expertise?
i would take a few trial lessons to see who is a good fit for your child. You will most likely have the teacher for a few years so it's good to see what types of phiosophies teachers have regarding reading music, learning by ear, expectations for practicing, and/or flexibility with scheduling.
What questions should students think through before talking to teachers about their needs?
What type of music are you interested in learning how to play? Are you a visual or auditory learner? Do you enjoy doing things more in groups or individually? What are your goals for learning music?
---
Services offered