About
As a teacher, I enjoy digging deep into all things guitar, bass, or ukulele and sharing good information, skill sets, and resources with my students so that they have everything they need to be independent architects of their musical vision and I eventually become irrelevant.
My lessons generally focus on the 3 main areas of developing skills, applied music theory concepts, and working on student selected songs. I provide students with weekly practice objectives, and all relevant handouts as PDF files through Google Docs. Here is a rundown of my lesson topics:
Technique
Reading/Decoding Music (Tablature/Standard Notation)
Applied Music Theory (harmony, improvization, music forms, ear-training)
Learning songs and using them as opportunities to learn about broader aspects of music.
As a performing musician I am comfortable performing and teaching, many forms of rock guitar, acoustic guitar styles, jazz, blues, R & B, pop, country, and some classical guitar. Some of my music heroes are Randy Rhoads, Jimi Hendrix, Jeff Beck, Larry Carlton, Fred Rogers, Bill Evans, Pat Martino, Joe Pass, Christopher Parkening, James Jamerson, Chuck Rainey, and Wes Montgomery.
Here is a run down of my education, qualifications, and experience:
Experience:
36 years experience as a music educator teaching in music stores, private and public schools, at a music museum, and a university.
Performing vocalist/guitarist/bassist in bands, theater productions, houses of worship.
Education:
Puget Sound Christian College – B.A. in Social Science. Summa Cum Laude
University of Washington – 1 year of Jazz Studies and Guitar Performance
Shoreline Community College – A.A. Music Theory Emphasis
Skill Sets
Performing and teaching many different types of music.
Transcribing student songs by ear and creating music that is understood by the student.
Applying music theory concepts to real-world music situations.
Developing collaborative goals with students and helping them reach those goals.
Developing teaching handouts providing resources that are relevant and timely for students.
Providing students and families with clearly defined weekly practice objectives.
Organizing all lesson materials for quick retrieval and use for students on Google Drive.
Integrating technology within the learning environment.
Personal Qualities
Compassion, patience, and flexibility when working with students
Awareness of developmental facets surrounding different student age groups.
Creativity applied to music and finding new ways to present information and give students new experiences applying what they learn.
Openness to new music forms, culture, technology, art, and finding new ways to more effectively teach music.
Ongoing interest in the stories, experiences, challenges, and thoughts of his students.
Expected Learning Outcomes
Being proficient with chords of all shapes and sizes when playing songs.
Ear-Training - Attaching relevant information to what you hear.
Soloing/Improvisation - Learning how to play lead guitar.
Developing proficiency with rhythm and strumming so you can play music with others.
Understanding Song components and common music forms
Isolating components of a particular music genre
Becoming your own teacher by developing the ability to teaching yourself new songs.
The best thing I enjoy about teaching is being able to get to know my students and appreciate their unique qualities, strengths, challenges, and perspectives. I enjoy helping my students and being a good caretaker of their goals and interests. I also enjoy ineracting with families and seeing how music can positively give kids forward momentum and help them build character qualities that they will draw upon later in life. I also enjoy identifying with the struggles of parenting and get a great deal of satisfaction when parents and students feel a bit more understood and their struggles are validated.
I am very interested in music, but I am much more interested in helping people realize their potential and move further ahead to their goals. It's my strong belief that learning music should be kept fun, flexible, and closely aligned with my student's immediate interests and goals. This requires me to tune in and listen to my students and keep asking the question, "What will be most helpful for them right now?" So, while I do have an organized approach towards teaching I'm able to adapt my approach so it really compliments the learning approach and interests of my students.
Teaching music is a great fit for me and my values. I hope to continue helping people have positive music experiences and develop their personal potential for as long as possible.
---
---
Photos and videos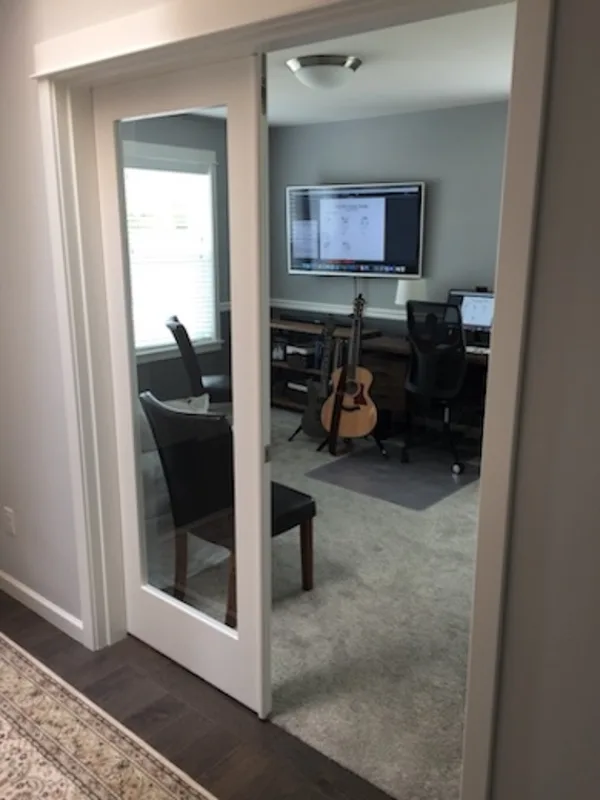 ---
Reviews
---
Hes amazing!! My 8 year old started taking lessons has year and Gordon has been the perfect fit for him. Hes all the things you want in a great teacher, patient, kind, takes the time to teach in a clear way and is so organized!! We have loved having Gordon as an instructor and with we could give him a 10!! Thank you Gordon for giving my son the chance to learn in a fun way!
March 24, 2020
---
Gordon was my teacher for about two years in the mid 90s. He was the best guitar teacher Ive ever had. He encouraged me to step out of my comfort zone and experiment with different types of music to help me better find, and understand the music I wanted to create. I couldnt recommend a better teacher!
March 02, 2020
---
My son Tanner is 8 years old and he loves taking guitar lessons from teacher Gordon! Teacher Gordon is a really nice and kind teacher.! He always tries to follow my sons interests and teach songs that Tanner will enjoy playing on guitar with teacher Gordon during lessons. My son is so lucky to be able to take lessons with teacher Gordon! This is because teacher Gordon tries to keep lessons fun! This helps Tanner enjoy lessons and continue to make good progress on guitar!! Thank you Teacher Gordon!
March 02, 2020
---
Our son has been taking lessons with Gordon for the last few years and we've seen huge growth in his ability. Gordon adapts the lessons to whatever Tyler is interested in at the moment and is always willing to try new things. When Gordon moved to his new place we were more than happy to follow him even though it was farther away because we knew we wouldn't find the same experience other places. We appreciate all the work Gordon does to make lessons fun and enjoyable for our son.
March 02, 2020
---
Gordon is an excellent instructor; all of the superlatives that get heaped onto everybodys favorite instructor definitely apply to him as well. However, where he really shines is in taking input from you as to what kind of guitar player youd like to be, figuring out where your skills are, and then building the roadmap/plan to get you from here to there. Of course he knows all of the theory, is an amazing player, will happily correct your bad habits and help your technique along, and has way more patience than mortals are supposed to possess, etc etc -- but the part where so many others fall short (making a personalized roadmap to becoming the kind of guitarist that you want to be) is where he excels. Not only is he great with adults, but hes great with kids, too (my son has also been taking lessons from him for the past year+), and providing enough fun-for-them content to keep them interested. Id happily recommend him as not just an instructor, but a Teacher-with-a-capital-T to anyone, regardless of their current skill level.
March 02, 2020
---
"I came to Gordon as an adult student who was struggling to learn to play guitar. He was very patient with me and made learning fun, easy, and understandable! I had specific goals and he was very good at understanding those goals and helping me achieve those goals and much more. I now play over 200 songs confidently!"
March 02, 2020
---
Frequently asked questions
What is your typical process for working with a new student?
At the outset I start with an informal assessment on the student's goals, interests, history playing music (possibly learning other instruments), challenges or problems they have faced with guitar or other instruments, and learning preferences. If the student is under 18 I usually will spend time on the phone with their parents or family members to find out what interests them the most, how they like to learn, and get a good idea of what the parent's ideal outcome would be for lessons. It is different for eveyone and every family.
At our first lesson I usually start students out with exercises related to technique and have them try a handful of different scales or songs that I think will be a good match for their level, age, and interest. My goal is to give each student something to work on that's acheivable and a good match for their current abilities and interests.
During the first lesson I inform students and parents on how they can access all teaching materials from Google Docs. I also go over my weekly lesson objective document that I keep in their online folder. I also ask the student to come up with an intial list of the songs/artists/styles that most interest them. This gives me a lot of material then to work on. I will then find the first song that they can work on the following week so that they are getting an immediate start on the music that is most relevant to them.
What education and/or training do you have that relates to your work?
Formal Education:
Puget Sound Christian College – B.A. in Social Science. Summa Cum Laude
University of Washington – 1 year of Jazz Studies and Guitar Performance
Shoreline Community College – A.A. Music Theory Emphasis
My studies started with music and ended with people and helping them. My Bachelors program focused on counseling and helping people. I've drawn on this extensively as I teach.
I have been a performing guitarist, bassist in a wide variety of performance situations. I've played in many different original and cover bands including a wedding band in Upstate NY. I've played in theater pits, churches, and have performed jazz in small groups and as a soloist. Currently I sub in houses of worship and local bands while playing in a band that handles Oktoberfest events in the Fall.
Do you have a standard pricing system for your lessons? If so, please share the details here.
In-Studio/Online Lessons: $82 Hour; $67 - 45 minutes
For more info visit: https://friendly-frets.com/tuition
How did you get started teaching?
My foray into lessons began when a local neighbor asked if I could teach their 11 year old son. Eventually I began teach him and at least 2 other students. My guitar teacher found out that I had begun teaching and asked if I would be willing to start taking students that He couldn't fit in his schedule. This led to me eventually teaching full-time at this store (which is not out of business).
I eventually moved to Upstate NY where I taught at 2 stores and managed the teaching program of one of the stores. At one point I found myself teaching upwards of 75 students per week.
In 2003 I moved back to Seattle and resumed teaching in local schools, at Mopop, and out of my house. I recently have relocated to Everett WA and continue to teach local students there as well as online.
What types of students have you worked with?
I have taught kids between the ages of 7-12, teens between 13-17, and adults between 18-90.
Many of my students start with me as beginning students with no prior knowledge on guitar, bass, or ukulele.
The majority of my students are generally kids and adults over 40.
I have also had the privelage of working with students who have a unique physical or cognitive condition that puts them on a different learning trajectory than what is considered normative in more structured or formalized learning environments. I get a great deal of satisfaction working with these students because music can be a safe space for them to be creative and gain competencey without some of the pressures or demands required of them when studying other subjects. I enjoy working with these students because it brings me back to my own experiences living with a brother who is downs/autistic.
I also have taught many students who have come to me with previous experience and a few years of lessons. They have developed some proficiency playing chords, songs, and maybe even soloing and want to go further. Many of these students are adults who studied guitar over 20 years prior and want to pick up where they have left off.
I also teach students who fall into more of an "advanced" level of playing and understanding of music. They already know how to teach themselves and come to lessons with great technical proficiency and knowledge of chords and scales. They often have bumped into a particular roadblock with their playing or they are just ready to grow their understanding of how music works and be able to apply that to some specific goals they may have. For instance, I have taught students who were very proficient playing rock/blues guitar and wanted to grow their jazz comping and improvisation skills so they could carry themselves well at jam session.
Describe a recent event you are fond of.
I just had a great lesson with one of my students who is 8. He came well prepared and did a great job working on reading the chords and melody lines in his Berklee guitar method book.
What advice would you give a student looking to hire a teacher in your area of expertise?
Trust your intuition. I think it's important that a prospective teacher is genuinely interested in you and your chosen interests and goals besides having the knowledge and skill that is most pertinent to what you want to acheive with lessons.
Make sure that you feel like you were heard and listened to when talking to a teacher.
Don't be afraid to ask many questions.
What questions should students think through before talking to teachers about their needs?
Think about 1-2 goals that immediately come to your mind that you would like to focus on with lessons. It's O.K. if those are general goals. But sharing that is a good conversation starter with a teacher.
Think about the types of music that you really enjoy listening too and potentially playing so you can share that with a prospective teacher. It even helps to give them specific artists or songs that you've been listening to or wish to learn.
Decide how much time you are willing to put into lessons according to everything else that is going on in your life. That way you can give your prospective teacher a good idea of whether you would like to study weekly or if you need a more flexible lesson schedule.
---
Services offered