About
Find me on Spotify and on my website sebastianforstermusic.com
I'm a globally renowned concert pianist who enjoys helping people achieve their musical promise. I' m based in Morristown, New Jersey. As my time is limited I will only accept, and/ or make pre screening interviews with students that send a note of introduction (ideally, including my name on it too). To ensure we are a good match. Also it must have "online lessons" -only- when the request is out of my 12 mile radio. I'm excited to connect!
Originally from Argentina, I have been Faculty at The Piano School of New York City (currently Anselmo Academy of Music & the Arts) for over sixteen years (2005-2021). Since 2021 working self employed. My educational activity has the goal of bringing the musical universe of adults and children out, teaching the latter, at an early age, the unlimited possibilities of self-expression through music. Also as a concert pianist myself, love playing duets with my students. See it as a fundamental part of the progress.
---
Highlights
Payment methods
Cash, Check, Venmo, Zelle
---
Photos and videos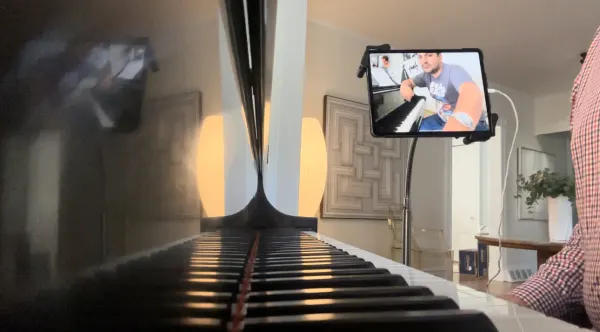 ---
Reviews
---
Sebastian is a wonderful piano teacher who goes above and beyond to inspire his students. He doesnt just teach them how to play the piano, but also helps them develop a love and appreciation for music. My children have thrived under his tutelage, and even though they may not become professional musicians, they are grateful for the musical foundation he has given them.
September 16, 2023
---
Sebastian is extremely patient and personable. He really makes a connection with his students so they look forward to their lessons with him, even if piano is not their main focus. We felt lucky to have found him for our son- and he was with us for many years.
September 08, 2023
---
Sebastian is a talented and versatile teacher, and invests as much time and effort in his teaching as in his performing career. Since he has been so well trained himself, he brings a deep bench of experience and musical knowledge to they keyboard. We crafted a series of lessons, over roughly a four year period, that combined musical theory with the practice and the playing, and he lifted my musical knowledge by several steps. Hes also a pleasure to work with and know, and most will respond well to his personal warmth, patience and regard. I had the advantage of working with him in person, until I moved away from the New York area, but am likely to reconnect with online lessons in the future. I recommend Sebastian without reservation, and suggest you make space for him in your plans - regardless of your current level of expertise.
August 31, 2023
---
Sebastian is just terrific. I can't say enough great things about him. He worked with our four boys since they were toddlers. He exhibited profound patience with them and in the same process, he opened up their minds and imaginations to the wonders of music and the endless musical possibilities within our standup piano. The boys treasured their lessons with Sebastian and they always trained hard to impress him as best they could. As parents, we loved our holiday concerts and it was the event that began our season's festivities. Sebastian has a vast knowledge of music and was always able to communicate that wisdom to our boys in the most nurturing yet instructional ways to our young boys. Thank you and we are eternally grateful for all of your guidance, support and encouragement over the years.
August 28, 2023
---
Sebastian is a great teacher. He is pacient and kind. He is one of the best concert pianist I know and yet he is very down to earth. I wish him all the best and will always be greatful about his impact in my daughter musical development.
August 27, 2023
---
Sebastian always makes classes fun, varied and productive. I always loved how much material we would cover in a single class, starting from drills to improve skill and dexterity but also learning fun duets that we could play together as well as solo compositions that I wanted to learn. Highly recommend to anyone!
August 24, 2023
---
Services offered