About
I train everyone from young preteens to the elderly to get in shape. Also teach professional boxers the sport because I'm a pro myself. My service is adaptable for anyone (different types of training for whoever wants to learn weather just to get fit or be a professional fighter).
Teaching people the sweet science of boxing. How to defend yourself, protect your self in and out the ring. How to punch. Block bob weave, fight, box. To Have discipline, self esteem, confidence in themselves. Lionel the Lion" Charles on Instagram Lionel Charles on Facebook
---
Highlights
Payment methods
Cash, Venmo, Google Pay, Zelle, Bitcoin
---
Details
Student's age
Under 5 years old, 5 – 10 years old, 11 – 13 years old, 14 – 18 years old, 19 – 25 years old, 26 – 45 years old, 46 – 65 years old, Over 65 years old
Disciplines interested in
I can make a recommendation, Boxing
Experience level
No experience, Beginner, Intermediate, Advanced
Goals
For self defense, Building strength and confidence, Developing discipline, Improving physical health
Class type
Private training, Group classes
Number of students
1 person, 2 people, 3 - 4 people, 5 or more people
---
Photos and videos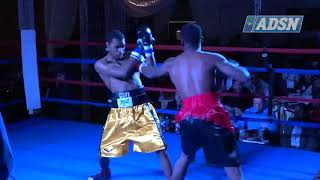 ---
---
Frequently asked questions
What is your typical process for working with a new student?
Will find out in sessions
What education and/or training do you have that relates to your work?
I'm a pro fighter. And a boxing and self defense instructor.
Do you have a standard pricing system for your lessons? If so, please share the details here.
How did you get started teaching?
When I started fighting everyone wanted to watch me. That's when I realized I was teaching.
What types of students have you worked with?
All young, old, men, women, beginners, intermediate, and professional boxers/fighters.
Describe a recent event you are fond of.
What advice would you give a student looking to hire a teacher in your area of expertise?
Make smart decisions. Ask questions: how many professional fights did the trainer have? Is he experienced? Is he teaching you what you want to know? Just because you like a trainer and have a good relationship with them doesn't mean he/she is a good trainer or good for you! My trainer has 70 fights and fought big names in the sport. A lot of trainers are out here taking peoples money and scamming people! A trainer isn't supposed to be liked. You supposed to hate your trainer because they work you to death and still not satisfied with you. There's a lot of professional fighters walking around thinking they can fight but really don't know how. Because their trainer lyed to them just to get paid. Many people die/get paralyzed in the ring because a trainer who didn't know what they were doing. A lot of trainers hustle/scam fighters. Also you get what you pay for! If you really want to learn how to do something you pay the cost. Not the bare minimum or the average! So if you want to play around get any trainer or a trainer you like but if you're serious and really want to become a professional. Then you need the meanest, baddest most disrespectful trainer or get a trainer who's gonna tell you the truth. My long time trainer threw me a way three times. I sought after him because I knew he was gonna teach me everything I needed to know.
What questions should students think through before talking to teachers about their needs?
How many amateur/professional fights did they have? Who they fought? Did they fight any top contenders or world champions. How long have they been training people? And questions to find out if the trainer really knows what they're doing. Like how to land a punch when...
---
Services offered