About
I've been playing and teaching for 30 years plus.
i play acoustic guitar as well as electric guitar and several other instruments banjo,ukulele,mandolin,harmonica,in multiple styles ...slide guitar and fingerpicking as well.
i sing and play professionally all over the state although mostly now I try to stay local as much as possible.
i play solo gigs as well as with several different bands and am a full time musician.
i teach guitar and piano at Encino academy of music and arts as well as private lessons.
I'm listed on the networking site "linkedin" under Morgan Lewis private music instructor in Simi Valley and there are lots of testimonies from students and parents of students as to my teaching abilities and results.
every student is different and needs a special approach teaching wise in order to learn to play music and keep it fun and easy and that's on of my specialties!
For me music is a spiritual experience.
i call it my church.
---
---
Photos and videos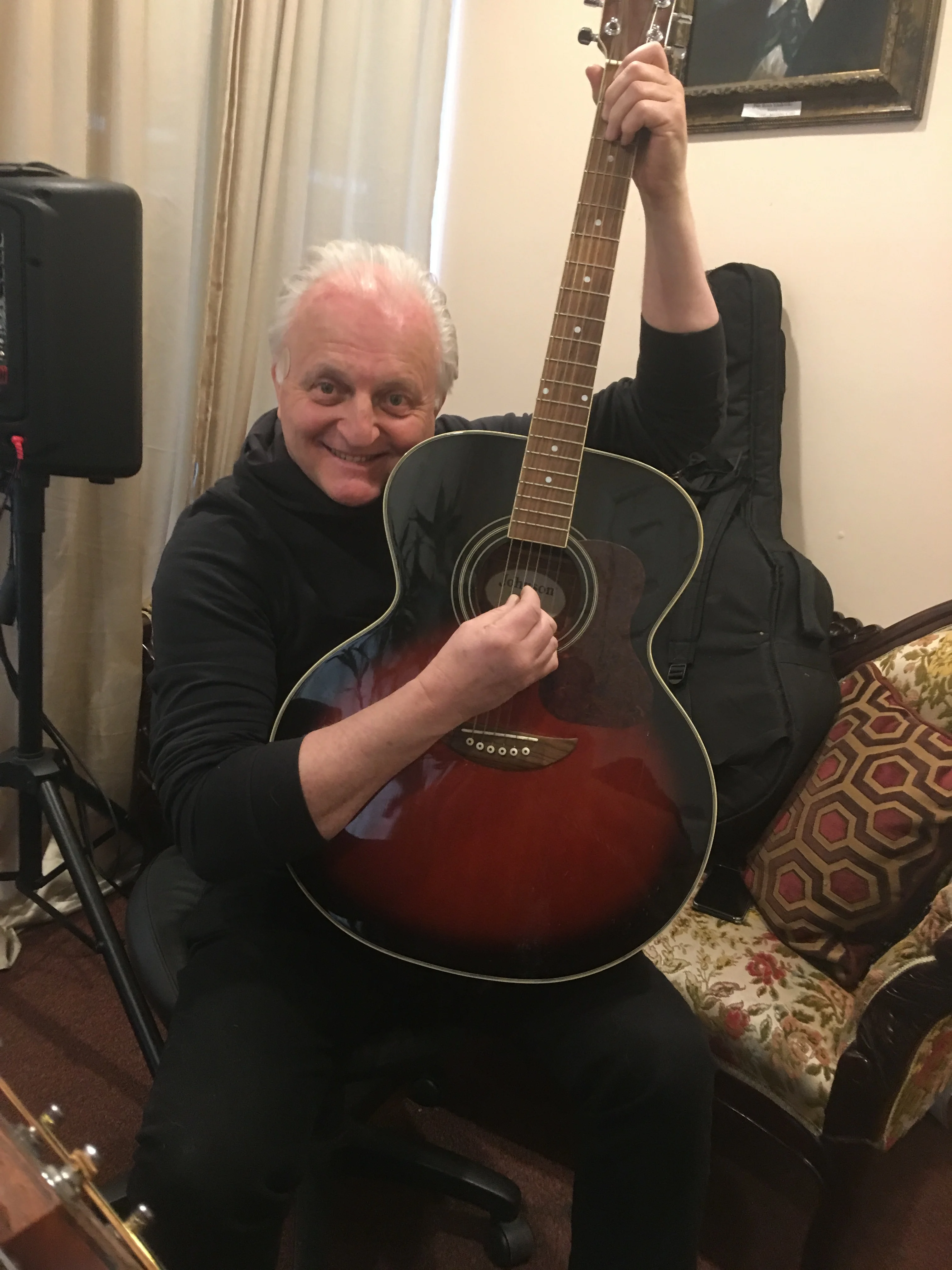 ---
Reviews
---
I had a great first lesson! Morgan made me feel comfortable and he was very patient with me. Instead of it being a lesson it felt more like playing a game of copy cat. He makes it real easy to follow. I felt like I learned so much on just the first day. I look forward to learning more!
---
Morgan tailors his lessons to my particular level of play. I am an accomplished bass player, (45 Years), learning guitar.
February 25, 2020
---
Ive been taking Morgans guitar lessons for 3-4 years and every class I learn something new. Hes very thorough and has led me through all of my biggest improvements in technique and understanding. Hes a dream to work with and a great guy. Also an amazing player himself!
February 08, 2020
---
Morgan is a very patient Guitar teacher. He approach to teaching is very relaxed and he got me playing songs and complicated chords in just a couple of lessons. He listens and adjusts his lesson to what a student needs. I wanted to jam lead guitar playing the Blues specifically, and Morgan got me on the fast track to an easy way to learn and memorize all the different keys and options for Blues scales. He has such patience with me and I have learnt so much with Morgan. After I have only been studying guitar for just a few months, Morgan has invited me to jam with him at venues that he plays at, and I am practicing for my big moment on stage when I play in front of an audience. Morgan is the MAN!
February 04, 2020
---
Morgan teaches in a way that is personalized to the student and creates an atmosphere of success. He taps into the students strengths and uplifts any weaknesses. My best teacher after 4 tries!
January 31, 2020
---
Morgan has a unique and wonderfully effective teaching approach. I recommend him for anyone wanting to learn how to play no matter what your skill level.
January 29, 2020
---
Frequently asked questions
What is your typical process for working with a new student?
Everyone learns differently based on their personalitie and natural abilities.
i create a simple plan to get them started and teach them songs they want to learn as easily and quickly as possible.
i make sure they have a good guitar/instrument to play on because that's very important in the process.
i also keep it fun and easy!
What education and/or training do you have that relates to your work?
i have been playing music all my life.
i went to Musicians institute in 1981 as well as studying with private teacher's but mostly the school of hard knocks playing anywhere and everywhere from clubs theaters and tours for 30 years plus.
Do you have a standard pricing system for your lessons? If so, please share the details here.
I charge 60 per hour but have special rates based on prepaid lesson and also the individual students financial situation.
How did you get started teaching?
it was always part of the process of learning for me to be teaching family or friends or fellow musicians...but I started teaching full time after I realized how music changed my life and my perspective of life in so many positive ways!
i wanted to share that experience because it was so profound and amazing.
What types of students have you worked with?
I've worked with students of all kinds from beginners to professionals and even students with different types of learning or physical challenges in order for me to give back what music has done for me and also to become a better teacher through experience.
Describe a recent event you are fond of.
i have been running a lot of jam night's at different local venues with my band for years now in Simi Valley and Thousand Oaks and I am able to bring students into a lot these situation,s in order to help them gain experience and confidence.
when I watch them grow in skill and talent that is an awesome thing!😎
What advice would you give a student looking to hire a teacher in your area of expertise?
look for a teacher who you feel comfortable with that is easy to work with and understand.
Who takes the time to make sure you are progressing as well can be expected within your ability and available time to dedicate yourself to practicing your instrument.
What questions should students think through before talking to teachers about their needs?
are they really serious about learning to play music for whatever reason or goal they desire.
are they willing to try their best at this time.
---
Services offered