Yoga & Fitness With Paloma
About
I'm a Fitness professional with over 15 years of experience. I'm a NASM Personal Trainer, 200 RYT Yoga teacher and fomer Physical Therapist Assistant. I love helping others find ways to keep themselves physically and mentally healthy and active. Moving, and working out can be FUN! I'm here to help you find your fitness passion! You can check out more about my services and reviews from other clients on my FB page at: https://www.facebook.com/yogafitnesspaloma/
I love meeting people who share my passion for fitness & wellbeing. I love helping others find what motivates them and assist them to achieve their fitness & wellness goals! I love helping other women feel strong, cabable & worthy of a better lifestyle.
---
---
Photos and videos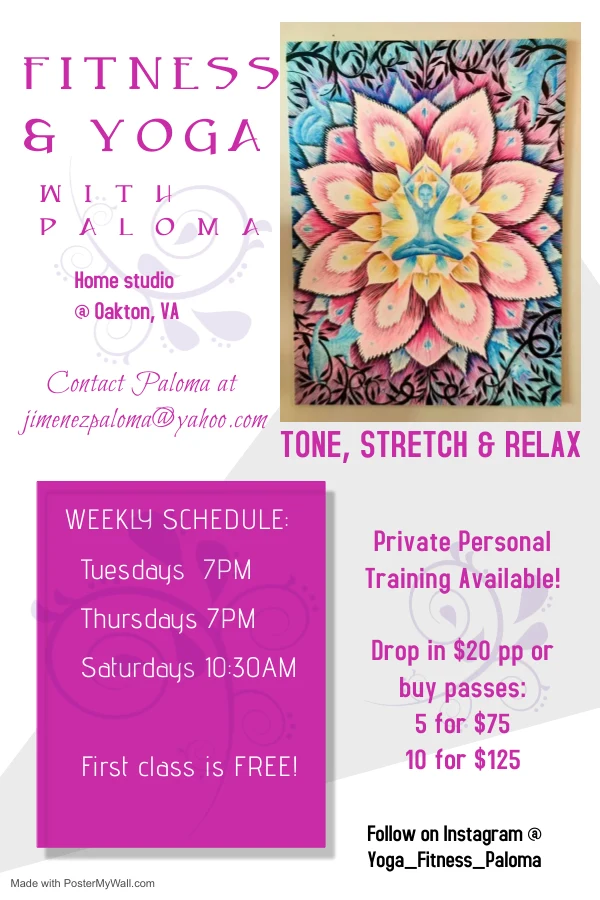 ---
Reviews
---
I've been attending Paloma's classes for over 3 years now and it has done wonders for me! No more back pain and I lost weight, and the people in class are wonderful! :) Love Paloma and her classes! 😊❤️
January 13, 2023
---
She is a patient and kind trainer. Her skills are up to date and cares to make you enjoy and benefit , from her guided work outs!
January 12, 2023
---
Paloma is very supportive no matter what your fitness level. Classes are fun and dynamic. I was hesitant to try Yoga but Paloma has made me glad I did. My flexibility began to improve after a few short weeks.
---
Paloma is very positive and energetic. She does a fantastic job of tailoring exercises to your level and goals. She is also fantastic at watching to correct form to target the right muscles and avoid injury.
September 26, 2022
---
I would like to share about the great experience that I am having with Paloma, who is my personal trainer. I had a lot of aches and pains, and I was under stress. Paloma picked good exercises for me. A lot of the aches and pains have gone away, and the yoga is relaxing and has helped me get my stress under control. Her studio is beautiful, clean and filled with all the necessary equipment. I especially like exercising with TRX.
I strongly recommend her. Paloma has been the best exercise experience that I had in my life.
May 22, 2022
---
A little background first: I was in a car accident about a decade ago and have had neck/shoulder problems since then. Physical therapy has helped immensely but problems remain. Last year I had abdominal surgery and a long recovery, after which I found that I had greatly reduced flexibility and stamina affecting many areas of my life.
I have been training with Paloma for about 6 months now and have seen much wanted results. Paloma has both a physical therapy background and teaches yoga, dance, weight training, etc. My neck and shoulders have improved greatly, as well as my flexibility and stamina! I'm able to hike longer and be more active. I feel safe with Paloma, she watches to make sure you are doing exercises correctly and at a pace you can handle. She has an upbeat attitude that is infectious and always focuses on the positive things in life
May 21, 2022
---
Frequently asked questions
What is your typical process for working with a new student?
I offer a FREE first time consultation. During this 1st consultation we talk about the clients needs, goals,health history and what they like/don't like doing. From there we can set up lessons packages of 4, 8 or 10 sessions.
What education and/or training do you have that relates to your work?
NASM CPT
200 RYT Yava Yoga instructor
Barre Above instructor
Former PTA
Former Zumba instructor
Do you have a standard pricing system for your lessons? If so, please share the details here.
The more sessions the clients buy the better the price. First consultation is FREE!
How did you get started teaching?
I started with Zumba, always love music and dancing. Then found Yoga and loved that as well. I eventually became a Personal Trainer as well. I love doing both private and group sessions. It always feel so rewarding to help others live a better, happier and healthier lifestyle!
What types of students have you worked with?
Mostly ladies in their 20's to 70's.
What advice would you give a student looking to hire a teacher in your area of expertise?
Find someone you feel connected and comfortable with, someone with experience and eager to listen to you and help you achieve your goals!
What questions should students think through before talking to teachers about their needs?
Think about your goals, keep those realistic. Think about what motivates you? What types of workouts have you tried that you truly enjoy? Tell your trainer what you like and what you don't.
---
Services offered