About
The #1 Mobile Muay Thai Kickboxing and Martial Arts Coach currently in the SF Bay Area.
My speciality is creating the MARTIAL ARTS EDUCATION PLATFORM for total beginner children and adults.
If you have always dreamed of starting martial arts training and/or just want to get motivated to be in better health, then I can be the solution.
Meeting honest people who want to truly change their lifestyle.
The best experience is seeing the mindset change which leads into physical changes for better health.
What I do will change your life. It's either stay unhealthy and face health concerns or take the step and become better.
All media content can be seen at Instagram.com/vwc316
---
---
Details
Number of people
Individual training, Couples training
Event to prep for
No specific event, Athletic event or competition, Vacation, Wedding
Current exercise
Customer exercises 0 times per week, Customer exercises 1 – 2 times a week, Customer exercises 3 – 4 times a week, Customer exercises 5-7 times a week
Gender preference
Clients who have no gender preference, Clients who want female trainer only, Clients who want male trainer only
Medical concerns or injuries
Back problems, Joint pain, Asthma, Pregnancy, Other injuries or medical conditions
Age
Younger than 18, 18 – 22 years old, 23 – 30 years old, 31 – 40 years old, 41 – 50 years old, 51 – 60 years old, 61 or older
How often
Customers who want to meet once a week, Customers who want to meet 2 – 3 times a week, Customers who want to meet 4 – 7 times a week
Fitness goals
Lose weight, Get toned, Build muscle, Gain flexibility, Boost stamina and endurance
---
Photos and videos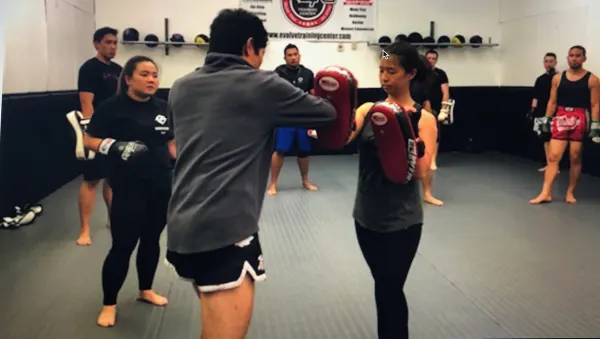 ---
No reviews (yet)
Ask this instructor for references. There's no obligation to hire and we're
here to help
your booking go smoothly.
---
Frequently asked questions
What is your typical process for working with a new student?
The first assessment is a phone call, email and/or video chat to introduce myself and gain some information about what the person wants to work on.
The primary training is Muay Thai Kickboxing. It is the foundation that supersedes what other activities try to emulate.
Once I understand their needs, I will let the person know if I am the right person for the job or not. Everyone's time is short nowadays so I always want to be upfront and honest.
During this process, I also briefly describe the type of training protocol, movement and then set a time to meet the new student.
There will always a strength and conditioning component to the martial arts training as well.
The only way to learn how to train with anything in life is to actually go and train.
What education and/or training do you have that relates to your work?
The martial arts is my way of life. It is who I am.
I started with Okinawan Karate when I was about 8, but credit my "hardcore" martial arts training in 1993 with what was unknown at the time -Brazilian Jiu-Jitsu.

The UFC was just released and a co worker of mine had interest to begin this martial journey of effective defense that was unheard of.
I had trained with and alongside numerous professional MMA athletes who became future UFC, Strikeforce, and world Muay Thai champions from around the world.
I honed my Muay Thai Kickboxing skills at Sasiprapa Gym in Thailand for 6 years to not fight, but to learn how to pass on the knowledge to others to become better people.
Do you have a standard pricing system for your lessons? If so, please share the details here.
*PLEASE only connect if you are interested in serious training and will respond once I send an email out to you*


There are 3 options for the pricing system:
Private, Small Group, or Corporate
Private is 1-1 training
Group are 2 or more people
Corporate are any business who want to implement training within their company structure
*NO SHOWS without any notice will be charged a full day rate.
How did you get started teaching?
I've been training and coaching my entire life. I was born this way into the martial arts.
This makes me unique from the old school perspective where nowadays every corner has a UFC gym or similar and seldom do you find a true martial artist who incorporates real training for function.
From 8 years old, I naturally could kick and punch and discovered this was the only activity I never can get bored of. Thus the years of knowledge passes on from self-training into coaching the next generation.
What types of students have you worked with?
Children to adults. All ages because the martial arts can be for everyone.
What advice would you give a student looking to hire a teacher in your area of expertise?
Ensure you are seeking the right coach for what you want.
My primary focus is martial arts training. NOT bodybuilding or cross fit.
Those elements can be added to the art of Muay Thai but if the student does not pay attention to details, how can the coach then be able to assist?
It is first understanding the purpose and intent of why you are training and how then to train properly.
---
Services offered